Are your accounts always out of date? Are you on top of your cash flow and taxes? Are you planning ahead? Outsource your financial department to us – our solution saves you time and money, and scales effortlessly with your business.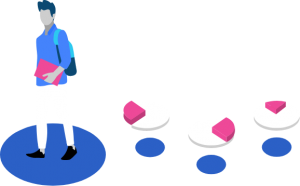 Forward thinking accountants for fast-growing businesses
Rocket Accounts provide ambitious and fast-growing businesses with scalable accounting and tax support that keeps up with your business growth and enables you to plan ahead.
With backgrounds in ecommerce and tech focused businesses, the Rocket Accounts team has worked with high growth businesses for nearly 20 years. We provide you with outsourced finance director and financial controller support when you need it, to work closely with you and your team, all backed up by our scalable virtual finance department running on state of the art cloud systems.
We make sure you always have up-to-date and accurate accounting information, so you can see where you are on profit and cash flow, and where you are going.
We use the latest cloud-based software tools to integrate with your team and share information seamlessly, so there's no need for an expensive accounts department taking up your office space.
And not only that, outsourcing your accounting to us means that you can be confident of accurate and up-to-date information, powered by state of the art systems and processes which scale effortlessly with your business, so you never have to worry about getting up-to-date financials.
Let Rocket Accounts free up your time: enjoy peace of mind with a scalable finance department you won't outgrow!
Ready To Revolutionise Your Business Finances?
From dealing with your day-to-day accounts and payroll function to providing a full Virtual Finance Director role, our services scale with your requirements. To find out more about how we can help you organise your accounts and grow your business, get in touch today.
"Increased our accounts efficiency!"
"Alasdair was my Finance Director for many years in a multi-million online appliance retailer and kitchen design company, introducing new systems which increased the efficiency and accuracy of the accounts across the company. Alasdair was extremely diligent and innovative in his approach and was instrumental in helping the company move forward in a proactive manner."
Oliver Wicksteed
Founder, CameoKitchens.co.uk
"Delighted to recommend!"
"Delighted to recommend Alasdair, his ecommerce experience helped us with a range of issues across tax, systems, pricing, planning."
Ankur Shah
Founder, Mahabis
"DEEP KNOWLEDGE OF ECOMMERCE!"
"… which has helped us automate all areas of our business processes."
Tim Hurrell
Founder, Resurface.Audio